Jeff Atnip is an award winning artist who has had numerous paintings accepted into juried shows. He has had over 25 years experience as a professional illustrator and graphic artist working for various studios, agencies and most recently for FedEx.
To contact Jeff:
email: jeff@jeffatnip.com
call: 901-262-1326
Other websites:
FAQs
How long does it take to complete one of these?
I would like two weeks lead time before your deadline. We will discuss your needs and my schedule when we begin to communicate.
How did you arrive at your $600.00 price tag?
Picture a large mixing bowl. Throw in working time, consulting time, computer time, and materials. Mix it all together and there is my price. I think it is a very good deal.
Why don't you frame them for me?
Most people like to pick out their own frame and mat colors. Presently I do not have the time or resources for this. Here is my recommendation. Use a 3 inch white outer mat and an inner colored mat that matches one of the colors in the painting. The outer mat should not be a dark or bright color…it should be a resting place for the eyes. Frames and mats are expensive these days, so you should consider this cost from the beginning.
I have seen other home portrait places on the internet and they charge less. What about that?
I have seen them also. If you are happy with the way their samples look, then feel free to use them. However, please be discerning. I have noticed more than one of them are using photographs and simply altering them with filters in Photoshop to try and make them look like paintings. And I have seen some that are obviously simply traced photographs. Some of them look okay and others show the distorted perspective and lack of good design inherent in amateur photography. Look at the vertical columns and walls - are they vertical - or are they slanted? Small camera lenses will distort the perspective. When I design a painting, I take care to move things around, fix the perspective, and use artistic license to enhance the overall effect.
How about just part of the house?
Yes and that is a good thing to consider. Maybe it is just the front door or the porch that you really want to remember or emphasize. I have done several of these kinds of portraits. Below is an example.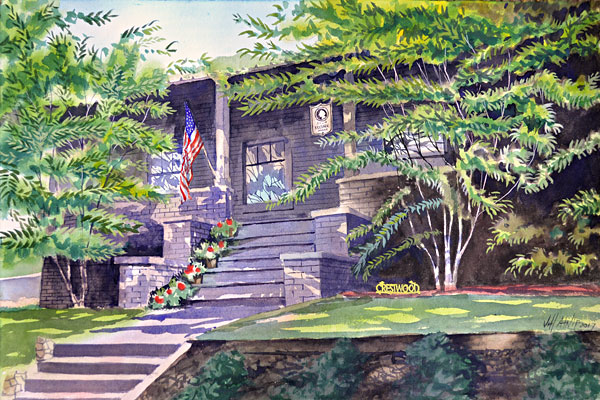 And another: